The Jewish Leaders Forum hosts intimate lunch and dinner discussions, fireside chats, and a variety of mentoring opportunities for Harvard students to meet with and learn from exceptional leaders from around the world. The leaders mentor and model leadership to our students, future leaders themselves, so they can help shape a better world.
RSVP for our next event on 3/27 with Mr. Howard Morgan.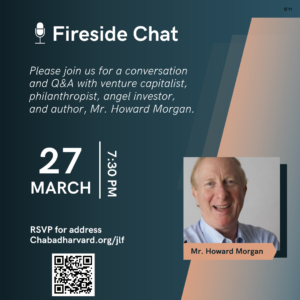 Howard Lee Morgan is Chair of B Capital Group, a multi stage global fund based in Singapore and Manhattan Beach, CA and .Co-Founder of  First Round Capital, established in 2004 as an early stage venture fund based in Philadelphia, PA, New York and San Francisco. He is also President of Arca Group Inc. in New York and a Director of Idealab, the Pasadena , CA based creator and operator of internet companies, where he was a founding investor in 1996. He holds a B.S. in Physics from the City College of New York, a Ph.D. in Operations Research from Cornell University, and an M.S.(hc) from the University of Pennsylvania.
Dr. Morgan served as Professor of Decision Sciences at The Wharton School, and Professor of Computer and Information Sciences at The Moore School of the University of Pennsylvania from 1972 through 1985. He started his career as Assistant Professor of Operations Research and Computer Science at Cornell University.  He has been a Visiting Professor at the California Institute of Technology and the Harvard Business School. During his academic career he served as an editor of Communications of the ACM, Management Science, Transactions on Office Information Systems and Transactions on Database Systems. His research on user interface technology and on optimization of computer networks led to his bringing the ARPAnet to Philadelphia in 1974.
From 1982 to 1989, he served as President of Renaissance Technologies Corp. in New York, where he supervised venture capital investments in high technology companies. He has helped seed a number of quantitative trading firms including Numerai, DCM  and Vatic Labs. He has been an active consultant and speaker to users and vendors in the information systems area for more than 30 years, and has worked with many of the Fortune 100 companies and numerous government agencies. He has been on the boards of more than 20 public companies, and on advisory boards for major corporations.
Since 1989, he has been President of the Arca Group, Inc., a consulting and venture capital investment management firm specializing in the area of computer and communications technologies. Arca Group has taken many ventures from seed stage through initial public offerings. He also runs M5Invest LLC and the Morgan Family Common Investment Fund, MFCIF LLC.
He is currently helping to nurture a number of startups in both early stage venture and quantitative investing including MyndYou and Augury Systems. He worked with numerous Idealab companies, serving on the board of Evolution Robotics (since sold to IRobot) and as Chairman of Internet Brands, the leading internet media company through its public offering and subsequent sale to Hellman Friedman.
Dr. Morgan serves as a Trustee of Cornell University, a Foundation Director of the New York Public Library, Trustee of Cold Spring Harbor Laboratories, a Director and Executive Committee member of Math for America and as a Chair of the Mabel Mercer Foundation.  He was named Delaware Valley Entrepreneur of the Year in the prestigious Ernst & Young competition.