ANNUAL HBS SHABBAT DINNER
Join hundreds of students for the largest annual Jewish gathering at Harvard Business School!
Enjoy an elegant and warm Shabbat Dinner and celebrate with fellow HBS students, partners, and friends from across the Harvard graduate student community.
Guest of Honor and Keynote Speaker: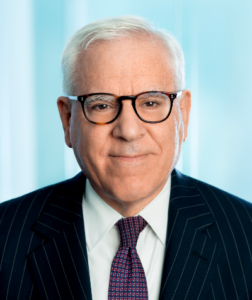 David M. Rubenstein, Co-Founder & Co-Executive Chairman of The Carlyle Group*

Faculty Greetings:
Regina E. Herzlinger, the Nancy R. McPherson Professor of Business Administration at HBS**
Friday, March 27, 2020
Drinks at 6:00 PM
Candle Lighting & Dinner at 6:45 PM
Williams Room, Spangler Hall, Harvard Business School
A Project of Harvard Chabad & the HBS JSA
Sponsored in part by the Julis-Rabinowitz Harvard Chabad Endowment Fund
  .
*Prior to forming Carlyle in 1987, a global investment firm with $222 billion of assets under management, Mr. Rubenstein practiced law in NY and Washington, D.C.  From 1977 to 1981 Mr. Rubenstein was Deputy Assistant to the President for Domestic Policy. From 1975 to 1976, he served as Chief Counsel to the U.S. Senate Judiciary Committee's Subcommittee on Constitutional Amendments. Mr. Rubenstein hosts The David Rubenstein Show: Peer to Peer Conversations on Bloomberg TV and many PBS stations. Among other philanthropic endeavors, Mr. Rubenstein serves as Fellow of the Harvard Corporation, Chairman of the Harvard Global Advisory Council, and is a member of the Board of Dean's Advisors of Harvard Business School. He is Chairman of the Board of Trustees of the John F. Kennedy Center for the Performing Arts, the Smithsonian Institution, the Council on Foreign Relations, and serves on the Board of Directors and Trustees of The National Gallery of Art, Johns Hopkins Medicine, University of Chicago, Memorial Sloan-Kettering Cancer Center, the Lincoln Center for the Performing Arts, the Institute for Advanced Study, the Brookings Institution, and the World Economic Forum. He is President of the Economic Club of Washington, and a member of the American Academy of Arts and Sciences, Business Council, Chairman of the Madison Council of the Library of Congress, a member of the Advisory Board of the School of Economics and Management at Tsinghua University, and Board of the World Economic Forum Global Shapers Community. Mr. Rubenstein is a magna cum laude graduate of Duke University, where he was elected Phi Beta Kappa. Following Duke, Mr. Rubenstein graduated from the University of Chicago Law School, where he was an editor of The Law Review.
**Professor Herzlinger was the first woman to be tenured and chaired at Harvard Business School and the first to serve on many established and start up corporate health care/medical technology boards. She initiated the courses in nonprofit and health care at HBS and was the first faculty member to be selected by the students as their best instructor. With her husband, she has founded and sold successful medical technology firms whose innovations have saved countless lives.